künstler
Matthew Fuller
Lives in London, UK
Digger Barley, 2007 – 2008 Bags of seeds, 1 × 2 cm
BOZEN/BOLZANO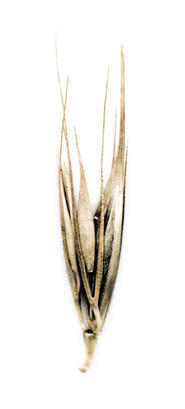 St George's Hill in der Grafschaft Surrey war eine der ersten jener wenigen gemeinschaftlich genutzten Ländereien, die während des Englischen Bürgerkriegs im Jahr 1649 von Teilen der Bevölkerung, den so genannten "Diggers", mit der erklärten Absicht, "die Erde zum Gemeingut aller" zu machen, besetzt und auch bestellt wurden. Sie machten das Land urbar, pflügten und düngten es und bauten Bohnen, Pastinaken, Karotten und Gerste darauf an. Nachdem sie des Landes schließlich wieder verwiesen wurden, blieben doch einige ihrer Pflanzen dort bestehen. Im zwanzigsten Jahrhundert wurde auf diesem Gebiet eine Luxus-Wohnanlage samt Golfplatz errichtet und der öffentliche Zugang eingeschränkt. Digger-Gerste ist eine Gerstensorte dieses Ortes.
Im Rahmen der Manifesta 7 wurde von der Bozener Gärtnerei Floricultura Schullian ein Garten mit eben dieser speziellen Gerste angelegt. Samenpakete und entsprechende Informationen liegen dazu frei aus.
Matthew Fuller ist Verfasser zahlreicher Bücher, unter anderem Behind the Blip: Essays on the Culture of Software und Media Ecologies: Materialist Energies in Art and Technoculture , sowie Herausgeber von Software Studies, a Lexicon . Er hat mit einer Reihe von Künstlergruppen zusammengearbeitet, darunter
I/O/D und Mongrel, und in diesem Zusammenhang Projekte im Kunstbetrieb entwickelt, die mit anderen Sektoren wie Software, ökologischen Verfahren oder Architektur einhergehen. Er ist Lektor am Zentrum für Cultural Studies am Goldsmiths College in London.
Location
BOZEN/BOLZANO
RAQS MEDIA COLLECTIVE: "THE REST OF NOW"
EX ALUMIX, VOLTASTRASSE 11, I-39100 BOZEN/BOLZANO, ITALIEN
mehr