künstler
Nikolaus Hirsch & Michel Müller
Nikolaus Hirsch, 1964, Karlsruhe, DE; Michel Müller, 1961, Ludwigshafen, DE They live in Frankfurt, DE
Cybermohalla Hub, 2007 Mixed media installation
BOZEN/BOLZANO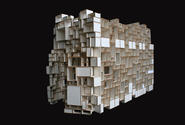 Cybermohalla Hub is a segment of Nikolaus Hirsch's and Michel Müller's growing project for a cultural laboratory in a new settlement in Delhi. A hybrid between school, community centre and gallery, it is both a load-bearing structure and a stacked display for the dense cultural production of the Cybermohalla group. The installation is part of the Cybermohalla project, initiated in Delhi by Sarai / CSDS and the Ankur Society for Alternatives in Education, where seventy young writers and media practitioners engage with their urban contexts through various media.
The work of architects Nikolaus Hirsch (Karlsruhe, 1964) and Michel Müller (Ludwigshafen, 1961) focuses on institutional structures, such as the Bockenheimer Depot Theatre (with William Forsythe), the European Kunsthalle, and unitednationsplaza (with Anton Vidokle). Cybermohalla Hub in Manifesta 7 is in collaboration with the AbK Stuttgart (Matthias Acksel, Krasimir Anastasov, Alexander Gaus, Steffen Sendelbach, Sylvia Stoll, Letizia Valsecchi), Stephan Engelsmann, Daniel Dolder and the Cybermohalla ensemble.
Location
BOZEN/BOLZANO
RAQS MEDIA COLLECTIVE: "THE REST OF NOW"
EX ALUMIX, VOLTASTRASSE 11, I-39100 BOZEN/BOLZANO, ITALIEN
mehr