artists
Hiwa K.
1975 Lives in Mainz, DE
Moon Calendar, 2007 Live dance and videos: _Moon Calendar / Iraq_ , 12' _Moon Calendar / Germany_ , 8' 30''
BOLZANO/BOZEN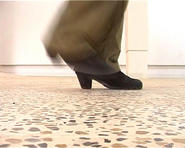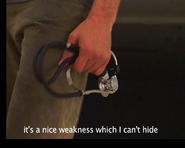 In this video and performance, Hiwa K. tap dances to his own heartbeat, which the public can hear live. As the dance proceeds, he loses control over his fast-moving feet, which after a certain point are unable to keep up with his heartbeat.
"I believe this performance has the potential to transform the space in which it occurs. The version shot in Germany relates more to my relation with the audience. The one shot in Saddam Hussein's former security building in Iraq is very different. Although the video only shows a rehearsal, since the performance never took place, the viewer reads the work through the context of historical events, and the traumas of people who were imprisoned, tortured and killed there. The factory in which I am to perform for Manifesta 7 has its own story and a context that generates new meanings and forms of interpretation." Hiwa K
Hiwa K. graduated from secondary school in Iraq and continued his schooling in self-education circles with other visual artists, intellectuals, musicians and theater artists. The major fields of these informal studies were European literature and philosophy, learnt from books translated into Arabic. Since 2002, Hiwa K. has been living in Germany as a political refugee.
Location
BOLZANO/BOZEN
RAQS MEDIA COLLECTIVE: "THE REST OF NOW"
EX ALUMIX, VIA VOLTA 11, I-39100 BOLZANO/BOZEN, ITALY
more