künstler
Rosalind Nashashibi
1973, Croydon, UK Lives in London, UK
The Prisoner, 2008 16 mm film loop played through two projectors, 5'
TRIENT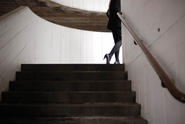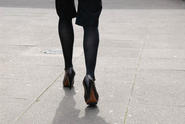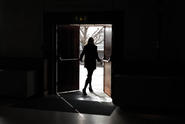 Rosalind Nashashibis Filme, Collagen und Fotografien untersuchen die psychologische Atmosphäre eines gegebenen Raums und analysieren dabei parallel existierende Realitätsebenen, Mythen und Jenseitigkeiten. Ihr Projekt für die Manifesta 7 wurde durch eine Sequenz in Chantal Akermans Film La Captive (2000) inspiriert, einer Proust-Adaption, in der Simon seiner Geliebten Ariane eine lange Treppe hinauf folgt und dabei immer wieder in und aus den Schatten tritt. Das Geräusch von Arianes klappernden Absätzen wurden in versetztem akustischen Abstand eingefügt, so dass die beharrlichen Laute im Vordergrund, im Kontrast zur Schauspielerin, die sich im Hintergrund aufhält, stehen. Unsere Erfahrung von sexueller Spannung und Kontrollbesessenheit wird auf diese Weise gesteigert.
Nashashibis 16-mm-Film-Installation zeigt eine kurze Sequenz, in der Anna, eine Frau mit hohen Absätzen, verfolgt wird. Dieses Mal ist die Kamera selbst der Verfolger, ein präsenter, aber unsichtbarer Charakter, der durch das Bewusstsein des Betrachters erlebt wird. Eine Filmrolle läuft durch zwei nebeneinander stehende Projektoren, so dass das selbe Filmmaterial auf zwei Leinwänden zu sehen ist, verzögert um die Zeit, die die Filmrolle benötigt um von einem Projektor zum anderen zu wandern. Die zweite Projektion ist lautlos, ihre Bilder asynchron, wie ein Geist, der dem Ton nachjagt – die mechanisch kreierte Verzögerung eines Films der durch den Raum wandert. Die filmische Zeit, die physisch erfahrbar wird, ist ein Echo der narrativen Zeit auf den Leinwänden. Anna ist gefangen, sowohl in diesem geschlossenen Kreis als auch in der Handlung selbst, in der wir ihre versteckte Komplizenschaft mit ihrem Verfolger und ihre Verinnerlichung von Kontrolle erahnen.
Location
TRIENT
ANSELM FRANKE/HILA PELEG: "THE SOUL (or, Much Trouble in the Transportation of Souls)"
PALAZZO DELLE POSTE, VIA S.S. TRINITA' 27, I-38100 TRIENT, ITALIEN
mehr