künstler
Pietro Roccasalva
1970, Modica, IT Lives in Milan, IT
Giocondità, 2002 digital animation, 3'53'', loop Jockey Full of Bourbon II, 2006 neon, resin and hand painted feathers, microphone pole, acrylic on paper on forex, mirror, 290 × 680 × 580 CM The Oval Portrait. A Ventriloquist at a Birthday Party in October 1947, 2005 pastel on paper on panel, 91 × 150 CM The Oval Portrait. A ventriloquist at a Birthday Party in October 1947, 2005 black and white polaroid, 10 × 12 CM
TRIENT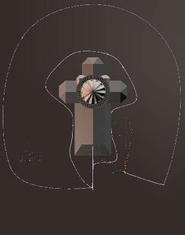 Sich jeglicher Linearität entgegenstellend, hat der kreative Prozess Pietro Roccasalvas immer einen korrespondierenden End- und Ausgangspunkt in Malerei. Um die diversen Momente dieses Ablaufs zu registrieren, öffnet der Künstler einen von ihm so definierten "Arbeitsplatz". Zusammen mit allen Phasen und Elementen des bildnerischen Prozesses – Objekten, Moebeln, audiovisuellen Produktionen, Handlungen und Tableaux Vivant– ergeben sich dort Visionen und Obsessionen voll von philosophischen, historischen und künstlerischen Referenzen, von denen der Erfinder sich selbst überraschen und leiten lässt. Jedes Bild ruft so ein weiteres auf den Plan, und jede Arbeit trägt die Elemente einer früheren Arbeit in sich – das Vor- und Zurück der Ikonographien bringt so in der Wiederholung ständig neue Situationen hervor.
Roccasalvas Ausstellungen sind so wie eine Spur, in denen Informationen durch verschiedenen "Bühnen" gerahmt wird (Kulissen, Installationen, Skulpturen, Videos und digitale Bilder umfassend), die formal geschlossen und autonom sind, und doch Teil eines umfassenderen Prozesses. Bewegung und Stasis tauschen sich dort so lange aus und verfolgen einander bis sie in der dynamischen Zweidimensionalität der Malerei verarbeitet werden. Was bleibt ist wie ein Skript, oder eine Partitur, die aber von einem Ereignis selbst hervorgebracht wurde anstatt diesem vorherzugehen, und die ihr Erfinder weder intendiert hat noch sich ihrer bewusst ist: "Der Zweck entsteht erst durch das Ergebnis".
Location
TRIENT
ANSELM FRANKE/HILA PELEG: "THE SOUL (or, Much Trouble in the Transportation of Souls)"
PALAZZO DELLE POSTE, VIA S.S. TRINITA' 27, I-38100 TRIENT, ITALIEN
mehr