künstler
The Museum for Franco Basaglia
by Stefano Graziani
TRIENT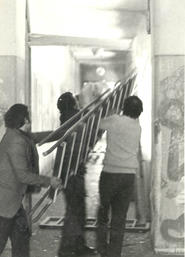 Das Museum for Franco Basaglia (Museum für Franco Basaglia) visualisiert die Auswirkungen des berüchtigten italienischen Gesetzes 180 aus dem Jahr 1978 und setzt sich mit dem psychiatrischen Krankenhaus in Triest auseinander. Dank Basaglias Bemühungen wurde die juristische Grundlage für die Führung psychiatrischer Krankenhäuser als abgeschlossene, isolierte Anstalten abgeschafft. Das Gesetz bestand aus nur wenigen Zeilen, denen weiter nichts hinzugefügt wurde; es war die pure Negation der existierenden psychiatrischen Arbeitsweisen. Das Ziel des Museum for Franco Basaglia ist es, sowohl tatsächliche Resultate als auch mögliche Ergebnisse dieser Revolution darzustellen. Das Museum besteht aus zwei Elementen: Das Archiv enthält für die Besucherinnen und Besucher zugängliches Material, das bei Interesse kopiert und mitgenommen werden kann. Es setzt sich aus Bild- und Schriftdokumenten des Triester Krankenhauses und Publikationen von und über Basaglia zusammen. Das zweite Element sind Interviews, in dem Experten aus unterschiedlichen Disziplinen den Einfluss von Basaglias Ideen auf ihre Bereiche analysieren. Diese Experten haben auch schriftliche Statements für das Archiv bereitgestellt.
Der Fotograf Stefano Graziani lehrt an der Universität von Triest. Er gestaltete dieses Museum zusammen mit Giovanni Damiani. Beigetragen haben Stefano Boeri, Franco Rotelli, Pier Aldo Rovatti, Beppe Dall'Acqua, Markus Miessen, Michele Zanetti, Donatello de Mattia und andere.
Location
TRIENT
ANSELM FRANKE/HILA PELEG: "THE SOUL (or, Much Trouble in the Transportation of Souls)"
PALAZZO DELLE POSTE, VIA S.S. TRINITA' 27, I-38100 TRIENT, ITALIEN
mehr