artists
Karl Holmqvist
1964, Västerås, SE Lives in Stockholm, SE, and Berlin, DE
Radio Ethiopia, 2008 Mixed media installation
TRENTO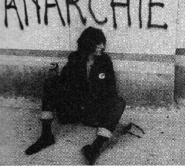 While listening to Patti Smith's Radio Ethiopia for the first time as a teenager, Karl Holmqvist was impressed by the idea that Africa could be punk. That wearing torn and dirty second hand clothes, sporting homemade hairstyles, and hanging out in the street could be an act of solidarity with Third World people. That in the face of the aggressive materialism and demands of western society, there could be an alternative vision – this is the transformative idea of the self-made that his new work seeks to invoke.
Holmqvist's project for Manifesta 7 takes the title of Patti Smith's 1976 album as its point of departure. Holmqvist recreates Radio Ethiopia's experimental polyphony by recording his own voice on several tracks and combining these with messages in writing and a jump-cut editing of images. Through delays and repetition, this approaches something like the systematic derangement of all the senses so famously expounded by Arthur Rimbaud as being a necessary condition for anyone aspiring to be a poet – or the type of searching of the soul involved in any creative activity.
Location
TRENTO
ANSELM FRANKE/HILA PELEG: "THE SOUL (or, Much Trouble in the Transportation of Souls)"
PALAZZO DELLE POSTE, VIA S.S. TRINITA' 27, I-38100 TRENTO, ITALY
more