künstler
Karl Holmqvist
1964, Västerås, SE Lives in Stockholm, SE, and Berlin, DE
Radio Ethiopia, 2008 Mixed media installation
TRIENT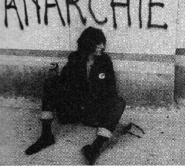 Als er als Teenager zum ersten Mal Patti Smiths Radio Ethiopia hörte, war Karl Holmqvist beeindruckt von der Idee, dass Afrika Punk und das Tragen von zerlumpten, schmutzigen Second-Hand-Kleidern, hausgemachte Frisuren und das Abhängen auf der Straße ein Akt der Solidarität mit den Menschen der Dritten Welt sein könnten. Dass es angesichts des aggressiven Materialismus und der Forderungen der westlichen Gesellschaft eine alternative Vision geben könnte – dies ist die transformative Idee des Selbst, auf die sich seine neue Arbeit bezieht.
Holmqvists Projekt für die Manifesta 7 nimmt dien Titel von Patti Smiths 1976er Album als Ausgangspunkt. Der Künstler gestaltet die experimentelle Polyphonie von Radio Ethiopia neu, indem er seine eigene Stimme über mehrere Stücke aufnimmt und diese mit schriftlichen Nachrichten und einer abrupten Bildmontage kombiniert. Durch Verzögerungen und Wiederholungen soll dieser Ansatz so etwas wie eine systematische Unordnung all der Sinne hervorrufen, die Arthur Rimbaud auf so berühmte Weise zur notwendigen Bedingung für jeden, der in sich den Drang zum Poeten spürt, erklärt – oder die Art der Suche nach Seele, die bei jeder kreativen Arbeit eine Rolle spielt.
Location
TRIENT
ANSELM FRANKE/HILA PELEG: "THE SOUL (or, Much Trouble in the Transportation of Souls)"
PALAZZO DELLE POSTE, VIA S.S. TRINITA' 27, I-38100 TRIENT, ITALIEN
mehr